"Cody"
Cody was 6 months old in this picture.
He is owned by Shirley Hill from Parkville, MD
"Heaven Scent"
Owner & Photographer Mrs. Deborah Nap Hickory Corners, Michigan
Lilli
Hi all,
Hope all is well, i was just wondering through your site and seen that people have sent pics of their puppies that were born on your farm i actually have one of your puppies through a lady by the name of karen in SC.
I am sending a pic of her we have named her Lilli and she now weighs 4 1b on the nose born March 2nd 09
Dam is Cheyanne
Sire is chocolate teddy bear
we absolutely love her, she is the sweetest little thing in the whole wide world.
Thanks Paula Gullige
Sylvester GA
This is "Kosmos"
Son of Elvis and Sabrina
In this picture his weight was 2.11 pounds and he was 4 months old
Tinkerbelle's Piccolo of Green Acres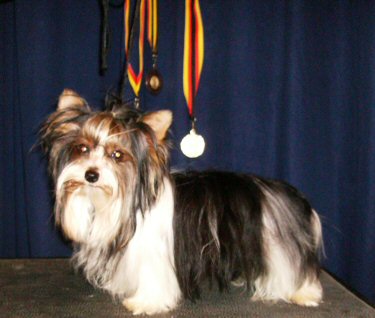 4 - 1st place in class
2 - Best in Breeds
1 - 3rd place in Group

Owned by Judy Pullins
purchased from Green Acres
Parents: Rootbeer - Bridgette
Weight: 3 pounds

Recently sold is Green Acres Little Brown Jug

She is a chocolate AKC Yorkshire Terrier female

Mother is Chocolate Cupcake and Father is Chocolate Teddy Bear